Save time and money by putting business forms online
Paper forms constrain an organisation's ability to cut costs & make efficiencies. Home and field based employees have to rely on post or email Word & Excel files around. These are easily lost or missed and there is no way of knowing whether the form is being progressed or at what stage it is at. The accuracy of the information held on Spreadsheet Forms is prone to error. And at the end of the process you are left with a paper mountain that is not readily accessible.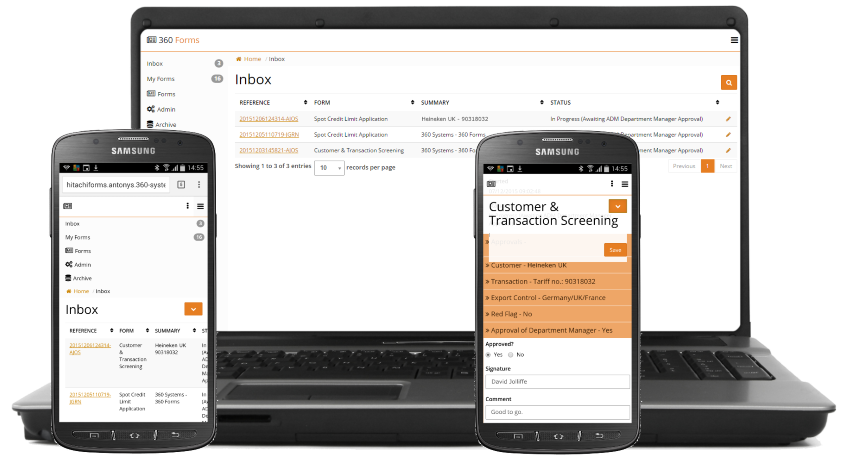 Embed forms into SharePoint, Intranet, Website and any other web pages
360 Forms can be embedded within web pages or initiated from a link that calls the form template to generate a new form. When the form is submitted it goes into the 360 Forms workflow engine to complete the steps in the process. Workflow calls are initiated via emails or SMS with links to the specific form or by going into the 360 Forms Inbox.
Key Features
Form Templates
Workflow rules engine
Notifications by email and SMS
Web inbox
View progress of all forms
Bottleneck escalation
Audit trail
Electronic authorisation
Electronic document signing
Form reports
In and outbound integration
Active Directory - Single Sign-on
Integrate form with your CRM, ATS, Support Manager or other systems
360 Forms can be integrated with your own systems, such as a Customer Relationship Manager (CRM), to streamline the forms creation process and enable your systems to store the data captured by the form.
For example, imagine you have a need to send your clients a declaration which they need to sign electronically.  360 Forms can be integrated to allow your own system to initiate the process of sending a form to the client.  360 Forms notifies your client and sends any reminders to assist with the forms completion.  Once completed and submitted by your client the data captured is stored and can be passed back to your system to update the clients record.
Demo or Trial
If you would like a demonstration of 360 Forms or trial the solution, drop us a line and we will be happy to show you who it can help you and your situation.