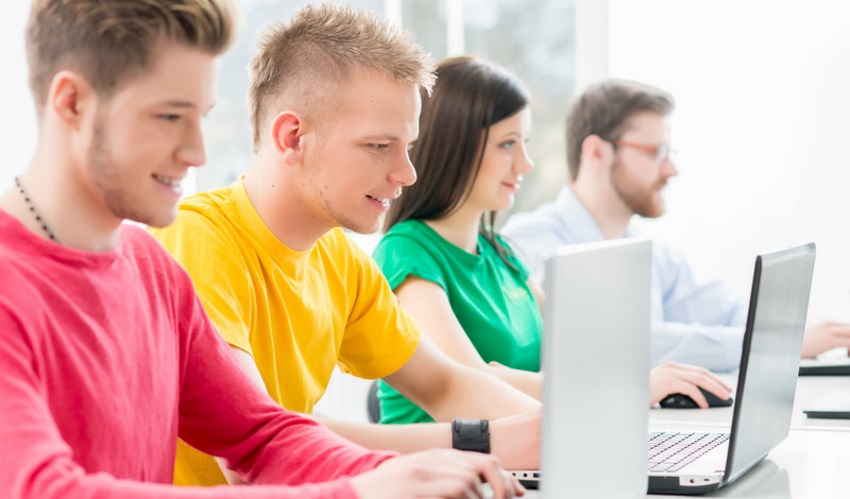 If you know you want a career as a web developer, but think that you really need a degree to back that up, then a the BSc Digital & Technology Degree Apprentice could be a serious option for you.
OK so you don't spend freshers' week getting up to whatever freshers do but think of the greater job opportunities when you graduate. There is also the difference in cost. £40k+ of student loan plus living expenses plus missed income makes a deposit on a house or some great holidays!
BSc Digital and Technology Solutions degree from Liverpool John Moores University
The great thing about a degree apprenticeship is that you'll be earning a salary straight away while learning towards a BSc Digital and Technology Solutions from Liverpool John Moores University.
Web Developer Degree Apprenticeship
As a Degree Apprentice you will follow the same track as our Graduate intake. You will work with and be mentored by our experienced Full Stack Developers, taking an active part in projects and rapidly improving your software development skills. We start you off with HTML5, CSS3 and JavaScript for front end development and then C# for the back end server side code. This is the start of our fast track programme to turning you into a commercial web developer using Microsoft .NET and the Azure Cloud platform.
Responsibilities
Learn core development technologies
1st line support for systems, websites and customers
Test systems as part of a project team
Take on day to day tasks of experienced developers
Employ coding best practices in the work you do
Create high quality systems
Code Web and Mobile Apps using HTML, CSS and JavaScript Frameworks
Write backend systems in C# ASP.NET MVC
Career Path
As well as software development you will gain experience in DevOps from requirements gathering with business people through to prototyping, coding, delivery and support. Your analytical approach to problem solving, strong maths and passion for software development makes you an asset to the team. In return you will work on a range of interesting projects building websites, mobile applications and web portal systems for our clients in the UK and Europe.
Following completion of the Degree Apprenticeship you will be a fully fledged Software Developer with 4 years commercial experience of building bespoke web systems and should be looking at undertaking a Lead Developer Role.
Requirements
Strong A-Level Maths
Passion for software development
Technical projects at home
Ideally one or more of HTML, CSS, Javascript, C#, Java
Minimum 112 UCAS Points including Maths
Location: Ellesmere Port, Cheshire & Liverpool
Our Ellesmere Port Office is convenient for Liverpool, Wirral, Chester, North Wales or Warrington and day release will be to Liverpool John Moores University.
School Leavers
2018 School Leavers with good maths and technical ability and who have written a website, app or completed a codecademy or Udemy Software Developer course are very much encouraged to apply.
Salary: £14,000pa plus University tuition fees paid.
To Apply: Send your CV, covering letter and contact details